Whitney Buchmann, WIA Catalyst
Whitney is a social impact consultant and founder at Illustra Impact. Based in Philadelphia, USA, she helps her clients create sustainable communities rooted in equality and justice and designs programs that result in greater food security, racial justice, and health equity.
---
WIA: How did you learn about the Women's Impact Alliance?
Whitney: A colleague of mine at my last organization had been going through it, and she recommended that I consider applying because I was thinking about a career change. She offered to send me her golden ticket, and that's how I started my application.
WIA: What made you ultimately want to submit your application?
Whitney: I graduated with my MBA in the summer of 2019 and was taking job interviews until the COVID situation caused a hiring freeze. Then, I started doing a lot of introspection, like finding YouTube videos, exercises online, and reflection questions around getting ready for another challenge post-MBA. I did a lot of internal processing and found myself going in circles. So the idea of having someone else to talk through this with me, to ask me different questions, and be a little bit of a guide was appealing because I felt like I wasn't getting very far.
WIA: What is the social cause you're heading up now, and why are you so passionate about it?
Whitney: I am passionate about building what I call sustainable, equitable, thriving communities. So the idea is that, oftentimes, folks aren't thinking about the ways in which the product or services of their organization are a part of a community - and that's both internally with their employees and externally in terms of their physical environment and who their various stakeholders are.
We need to bring communities together to evolve and solve their problems with inclusive and equitable decision-making.
I love stakeholder engagement and ensuring that all of the voices impacted by a particular system are at the table. So I spent my career focused on historically oppressed and excluded communities, making sure they were represented. If we don't include diverse voices and stakeholders in determining how change should happen and what kind of change should happen, then most change won't move forward or be sustained. We must unite communities to evolve and solve their problems with inclusive and equitable decision-making.
WIA: What was your coaching experience like with the WIA?
Whitney: I was really happy to be paired with someone who shared my spiritual values and experience in having gone through some big shifts in my career. My coach started out in the food service area, and then eventually that turned into training folks, and then that turned into coaching. And so it felt like my application had really been assessed and paired up well. Because of that, I felt like she understood and took into account not only the things that I valued but was also able to give me some of her anecdotes and offer advice when necessary. So I appreciated the balance of someone who was taking in what I needed and what I wanted but could interject some of her own experience to guide me.
WIA: What were some of your shared values?
Whitney: We both had a shared faith tradition. I wanted to align my purpose and find purpose in my work because there's a higher power that gave me certain gifts and experiences that are meant to be shared with the world. I wanted to really live out my highest potential in that way. It was meaningful to me to have a coach who understood that your vocation can be aligned with your purpose and that there's a higher power at work.
A coach is going to push you when you're feeling tired, even when you want to quit, and then point out your strengths and your potential and reflect that back to you when you're feeling discouraged.
WIA: What are some important things that your coach taught you or that you gained from the coaching experience?
One thing was the structure of our weekly sessions; that momentum and accountability were so powerful. When you have to check back in with someone about what you've done and what you said you would do, it's really helpful. Another was her process of working through negative self-talk. She would ask me what the life shock that started this spiral was and then walk me through a process that, by the end, I could see most of what I was telling myself was not true. Having done this with her a few times made me realize how often I was getting stuck in negative mind talk. It helped me with a few breakthroughs, just as she would pause and walk me through what I was telling myself.
WIA: What were some of the negative self-talk you're comfortable sharing?
Whitney: I had a lot of negative talk about not being successful. Who am I to think that someone would want to pay me this much money to do this? And if I fail, I will have to go live with my parents, and what does that say about me if I'm living with my parents? I would go down these rabbit holes of one negative piece of feedback from a client and put so much weight on it in a way that it wasn't as heavy as I interpreted it to be. I'd go into a spiral of questioning - should I be doing this work?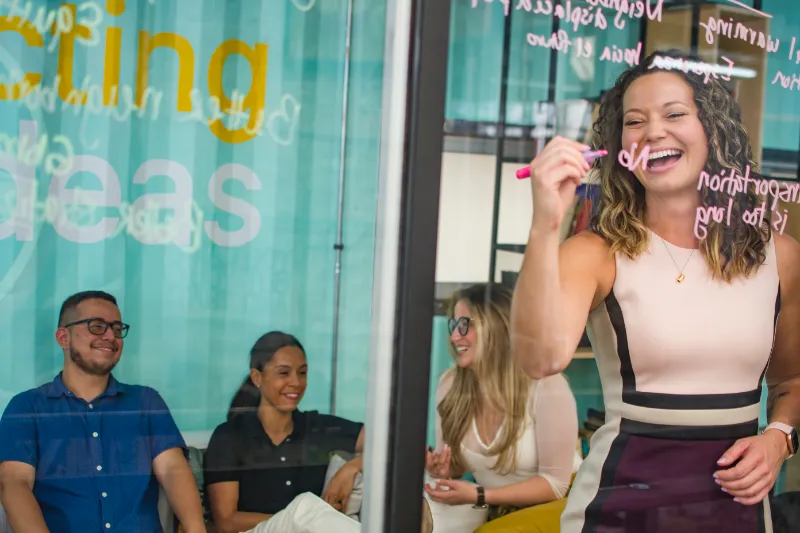 WIA: What are some other benefits of the coaching experience?
Whitney: It's funny because I think we often only see coaches in the athletic space in life. Many folks don't understand what a coach would do or why you would have a coach for your career, your life, or whatever it may be. What I found to be valuable about having a coach is they're going to push you when you're feeling tired, even when you want to quit, and then they will point out your strengths and your potential and reflect that back to you when you're feeling discouraged. A coach is someone who is going to help you grow not just by telling you what to do but by helping you think through the challenge yourself. It's important to have an external voice that can help you think through things and ask you hard questions.
WIA: How did coaching influence or change how you approach your current role?
Whitney: I miss being in a formal leadership position and having a team because I haven't really got to do much coaching, mentoring, or leading people. But coaching reinforced me as I am hired to consult with people to ask myself, "How do I shift our interactions so that I am more of a coach and more of a consultant than a doer or an individual contributor? How do I shift so that I'm not the one doing the work, but I'm helping you think through the work you are capable of?"
WIA: Did coaching give you more confidence in yourself?
Whitney: I think it gave me courage because I was reminded that I have more internally and within my tribe, than I was giving myself credit for. And that we're all learning all the time. Coaching gave me confidence that I don't have to be an expert. I just have to be present, ask questions, and invite others to learn. I don't claim to be an expert, but I'm on a journey, and you're on a journey. Let's not waste what we're learning; let's share it with one another and help each other when we get stuck.
I really appreciate the organization connecting women striving to create social impact in the world.
WIA: Was there a networking component to your WIA experience?
Whitney: I definitely joined several of the webinars or workshops, and I did meet other women. In fact, some of those women became part of my Solopreneurs Circle, so we stay in touch that way. I met one in-person while in Colombia a couple of months ago, and I continue to be connected to other women, which is definitely very valuable.
WIA: What are your thoughts about the WIA organization and its mission?
Whitney: I really appreciate the organization connecting women striving to create social impact in the world and offering us resources in a way that we probably couldn't afford to think about otherwise. That's just a huge, huge gift. And I know my coach values the ability to continue serving as she slows down her practice - she can still give back based on her experience. So I liked that WIA offers both coaches and alumni a community and a space to practice so the Catalysts can experience this gift.
WIA: Would you recommend the WIA experience, and how would you describe it to someone new?
Whitney: I have recommended this experience to many people. And, usually, I'm encouraging folks when they're in places of potential change and shift that it really is helpful to have someone to walk alongside you and be a part of a community thinking through similar things. It can really be inspirational. Coaches can help you think, "Okay, this is where I'm going. These are the things that we should work on together so that I can build those muscles so that I can build confidence." A lot of times it's knowing that you have the skillset already and a coach can help you believe in yourself. You lean on a coach to be able to see you through because they know how the game is played. They know how the system works and can help you navigate it.
My advice is to just apply because the application process in itself is so reflective and insightful that having to do that alone will set you on a different path than you were on. From there, you can decide if you want to be coached or not, but at least start the application process to get a sense of what you could learn from it.
WIA: What was your favorite part of your experience? I really did enjoy my time with my coach. She was such a gem. We've continued to stay in touch, and I'm truly enjoying the relationship I built with her.
WIA: In a word, how would you describe your experience with the WIA?
Whitney: Catalyzing.