Tamiko Nettles, WIA Catalyst
Tamiko Nettles is the CEO and Founder of Let Go - Be Great. The vision for her social impact organization is to turn an organization's dream into reality by offering customized "client-centered" professional learning, strategic coaching with team building essentials and resources, and a hands-on approach to building the capacity of ALL stakeholders in both nonprofit and for-profit education-related industries.
---
WIA: How did you find out about The Women's Impact Alliance?
Tamiko: One day, I typed in two words that I most wanted in the search engine "coaching" and "fellowship" and my heart smiled as I read about this organization! I was amazed to see that WIA worked with women of all nationalities, provided coaching, and connected fellows to each other throughout the fellowship! And when I clicked the webpage link, I saw an info session for the following Monday, signed up, sent an email to the email address listed, and my journey unfolded from there. Jane was the person that emailed me back and she said, "I think you'll be perfect". And then when I looked her up, I was like, oh my god, this is the founder, and she sent me a personal message. So I came to the Monday info session, applied and got in! Attending their Monday info session showed me that the program is really sincere about helping each woman become their best self.
WIA: What motivated you to seek coaching and fellowship when you did?
Tamiko: I wanted to find a program that empowered women to do great things, had a coach, crossed multiple industries, and created thought partnerships in networks beyond Chicago. I wanted to do some type of educational leadership program because although I had been in leadership roles, I was not growing as a leader. I really wanted to find answers and solidify my "why." I wanted to know, what am I doing right, what am I doing wrong, how do I exert myself as a leader, how do I ensure that I am sharing all of the skills that I have learned from my 20+ years working in the education industry, and how can I lead more effectively. I really wanted a coach and a community that could help me figure out and uncover what I couldn't see at the time.
I wanted to know, what am I doing right, what am I doing wrong, how do I exert myself as a leader.
WIA: How did the coaching relationship change you and the way you lead?
Tamiko: My coach would listen, and then she would direct me not to focus my attention on other people but to focus my attention back to myself. I never understood what she was doing until our last coaching session. She would remind me to breathe and reflect on what I can and cannot control. I cannot control someone else, but I can control what I do and how I react to it. This simple, yet powerful reminder, still keeps me grounded and focused as a leader.
The Women's Impact Alliance matched me perfectly with an amazing woman of color! She became my coach, mentor and ally!
WIA: Tell me about the process of how you were matched with your coach.
Tamiko: One of the WIA application questions asked us to specify the type of coach we wanted to be paired with. I really wanted to be paired with a woman of color who could be both a coach and a mentor. I wanted a coach who experienced similar struggles I had as an African American woman in the workplace, who may have been looked over in positions, or been in an executive or C-Suite role. Because I expressed this in my application, The Women's Impact Alliance matched me perfectly with an amazing woman of color! She became my coach, mentor and ally!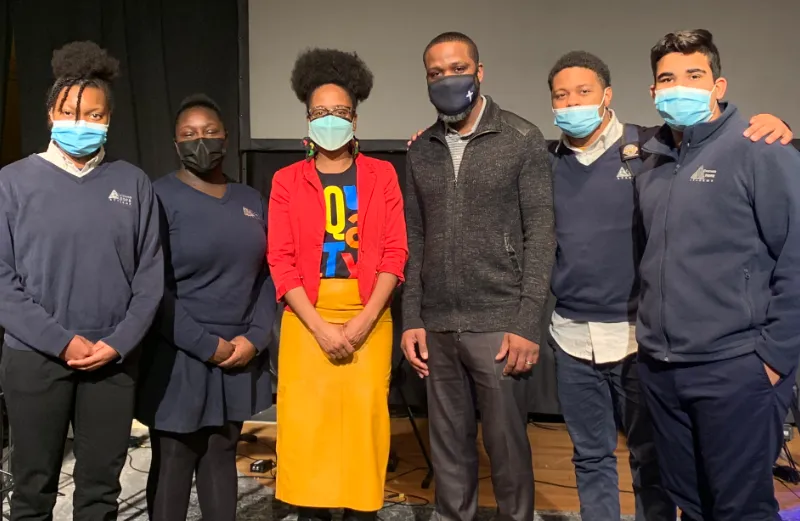 WIA: How has WIA changed you and your perspectives?
Tamiko: I didn't know what being a thought leader in social impact entailed before I found WIA. Now, I know why it is so important to be a strong confident leader leading the work in your industry. In order to address social injustice or challenges, we have to bring our "A game" daily, be our best self and form alliances with other like minded individuals. I listened intently to the workplace challenges expressed within my fellowship community so I can bring action and change to the individuals who I serve. I've learned that changing workplace culture is bigger than just the education industry and something that I cannot and should not do alone.
WIA: What is the value of the WIA community and how did you connect with other Fellows?
Tamiko: WIA provided us with multiple opportunities to connect with other women leaders during our fellowship. It began right at the beginning when I joined the program onboarding session. A number of us on that call discovered that we loved to write, so we decided to meet up and connect about our writing.
The WIA program also gathers women into 'Ally pods', and I was a part of a pod of five individuals from the Midwest. Being in this group was such an awesome experience. We did things to push our learning, especially at work and unpacked the things we discovered in our coaching sessions; discussing how to bring this into our professional lives.
Being part of these small groups of women at WIA, allowed us to be a sounding board for one another, whenever we had questions, needed to talk or get feedback there was always someone there to help.
I'm also part of another WIA pod that's not organized by region. It's been incredible to be part of a community knowing that every single woman is focused on social impact no matter where we are in the world. Whether it's personal or professional, I can reach out for advice or just to collaborate.
Now, I know why it is so important to be a strong, confident leader leading the work in your industry.
WIA: Would you encourage women of color to apply to WIA?
Tamiko: Yes! WIA is a great organization for women of color. The interactions I had with other women of color throughout my fellowship have been life changing. We have formed lasting bonds that would have not been formed had it not been for this fellowship experience. Every conversation provided more insight into how another woman experienced workplace dynamics and excelled in their industry. Since it is a global program, I was able to connect with women in different countries and industries, which I think for a woman of color will offer a unique take on how she interprets where she is and her capabilities.
WIA: Can you talk about the particular leadership challenges for women of diverse racial and ethnic backgrounds and how WIA supported you in that regard?
Tamiko: I cannot talk about the challenges for all women of diverse racial and ethnic backgrounds, but I can shed light on three that have been encountered as a woman of color. Two huge ones are self confidence and imposter syndrome. WIA supported me in these areas by bringing in coaches or past fellows who had similar lived experiences. Each individual shared tips to overcome them. Another leadership challenge experienced is feeling like you are facing leadership issues alone. Whenever I engaged with other fellows in our monthly fellowship calls, I found that I was not alone. There was always another fellow who had a similar challenge or overcame it. WIA provided opportunities for these conversations to occur. Each helped us figure out ways to work together to address any of our leadership challenges.
WIA: What exciting things are in the near future?
Tamiko: I'm excited about what's next for my consulting firm, Let Go - Be Great. I am passionately leading it with all the wisdom I have attained from WIA. My vision is to help millions of people let go of whatever's in their way and reach their full potential.